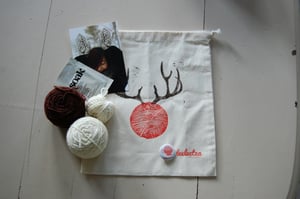 $

40.00
This kits contains all the yarn that you will need to start knitting your own Oh Deer! mittens, as well as a little handprinted organic cotton project bag to keep everything together. We will also be including a few fun extras!
The yarn was handdyed by Northbound Knitting and split up into exactly as much yarn as you will need to knit up one pair of mittens.
The pattern will be included as a pdf download. Please include a valid email address so that we can email it to you!
Needles not included. Size 2.5mm recommended. For more information about the Oh Deer! pattern, please see the Ravelry page.- http://www.ravelry.com/patterns/library/oh-deer-2